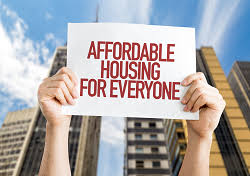 Wednesday, November 20, 2019 • 6:00pm-7:30pm
A major "wicked problem" at the national state and local levels of governments and many nonprofits is affordable housing. There is not enough needed affordable housing available.
However, building and maintaining needed affordable housing challenges the financial and intellectual capabilities of governments and communities. Recently, the Metropolitan Washington Council of Governments' adopted three housing targets for the Metropolitan Washington DC area between 2020 and 2030. One of the targets was "At least 75% of new housing should be affordable to low- and middle-income households." Achieving this target as well as the other two targets will require a lot of commitment, dedication and innovation by the District of Columbia and the local governments in Maryland and Virginia.
 The National Capital Area Chapter of ASPA will sponsor a discussion on affordable housing focusing on such questions as:
 (1) What is, or should be, the accountability mechanism for achieving this target?
(2) What tools will be needed to achieve this target?
(3) What are the equity issues around this target and how should they be addressed?
(4) What type of non-financial incentive might serve to encourage increasing needed housing supply?
 Bring your thoughts, ideas and knowledge to this exciting discussion on one of the nation's and local and state governments' wicked problems.
Light snacks and refreshments will be served.